Je vous pose la question que serait un look parfait sans notre (nos pour ceux qui en ont plusieurs comme moi) accessoire ou bijou fétiche ? Qu'il s'agisse d'un foulard, d'une paire de B.O, d'un bracelet ou encore d'un chapeau....On le sait tous sans lui ça ne serait pas complet.
Personnellement, j'ai quelques petites "babioles" qui ne me quittent jamais ! Pour commencer, ma bague ( de fiançailles) qui est comme une extension de mon doigt. Je ne l'enlève que pour mettre les mains dans l'eau sinon elle est greffée à ma main.
I ask you the question that would be a look completed without our (our for those who have several of it as me) accessory or jewel idol? That it is about a scarf, about a pair of E.R, about a bracelet or still about a hat.... We know it all without him that would not be complete.
Personally, I have some girls "trinkets" which never leave me! To start with, my ring (of engagement) which is as an extension of my finger. I remove it only to put hands in the water otherwise it is transplanted to my hand.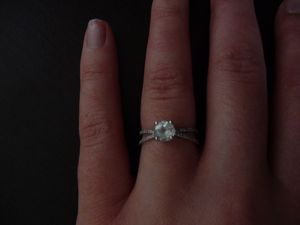 Ensuite, il y a mon ras-de-cou... Cette petite chaîne en or agrémentée d'un cadenas en forme de coeur, doit-on y voir un symbole ? Possible ou pas !
Then, there is my crew-neck sweater... This small gold chain was decorated with a heart-shaped padlock, do we have to see a symbol there? Possible or not!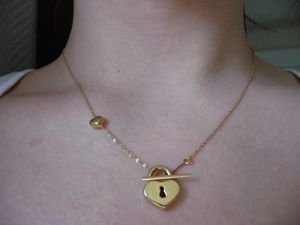 Pour finir, mes foulards !!! Un quantité impressionnante (je n'ai pris que les plus utilisés en ce moment) d'écharpes, de foulards et d'étoles....de formes, de couleurs et de matières différentes. Un plaisir à associer avec une multitudes de tenues plus originales les unes que les autres.
To finish, my scarfs!!! One impressive quantity (I set only the most used at the moment) of slings, scarfs and shawls of forms, colors and different materials. A pleasure to associate with one multitudes of more original dresses the some than the others.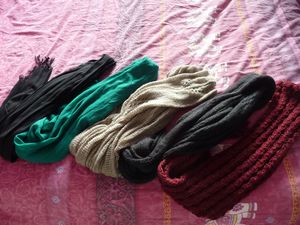 Et vous, quel est l'accessoire ou le bijou dont vous ne pouvez pas vous passer ?
And you, what is the accessory or the jewel of which you cannot take place ?